Ok, fine, I'll write about which patterns I want to knit from New England Knits.
As you all know, it is SUCH a hardship for me to have to write about knitting. Heh.
Anyway, these are the top five patterns that I want to knit from the book:
(yes, all photos are borrowed from Ravelry. They're from the book. Here is a link to purchase the book on the interweave site, which will hopefully mollify them if they get pissed that I'm stealing their photos to promote their book FOR FREE, mind you. Admittedly I am promoting their book without their knowledge or permission, hee hee.)
Ok, first up is the
Hamptons Cardigan
. It's knitted flat in one piece, from the back to the front, and the construction looks super cool. (You sew up the sleeve seams at the end of the knitting, and the collar and cuffs are added later. Though honestly, I don't see why you can't add the cuffs as you're knitting the rest of thing.)
The Salem Hooded Jacket
, which I absolutely adore. I'm not really wild about the ribbony bits at the top, but otherwise this thing looks awesome. It has a hood (sweet!) and built in pockets (super sweet!). The Rav notes say that it is "fitted with negative ease" on the model (meaning that the model is too big for the sample size that was knitted) which is why I think the sleeves look a few inches short on her.
The Cranston Coat
, which I think is the only thing with bobbles that I've ever really loved:
The Middlefield Pullover
, which looks comfy and cute. I'm more of a cardigan person (really obsessed with them), but I like the ribbing on this, and adore the buttons on the shoulder.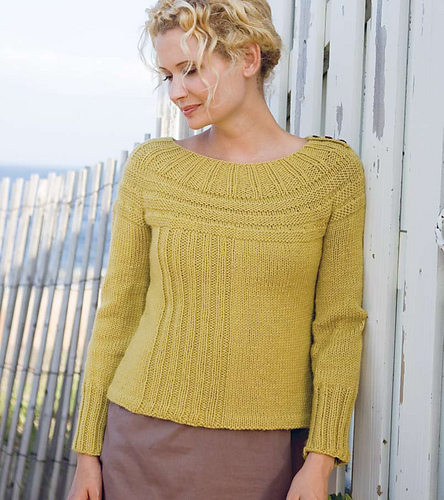 The Greenfield Cardigan
. Love the garter stitch and love the leaves at the bottom. Will probably make full-length sleeves though.
And... I just counted. Out of 25 patterns in this book, there are only two that I don't love. TWO. The rest of them are just fantastic. Can't wait to get started on them.
yes, Bruce, I will be knitting you a sweater. And another scarf or two. I promise.